Serving
The Greater Midwest
Breeder | Trainer | Groomer Wheaten Health Resource
Champions Over 75 and Counting
I went to the Internation Dog Show in Chicago in 1981 with a list of nine breeds I was interested in. At ringside, I saw the most incredible dogs and tore up my list, paid a deposit and learned they were "Soft Coated Wheatens". The breeder thought I had lost my mind. I had! I've been crazy about the breed ever since .I waited six months for my puppy. Due to an unexpected surgery, the breeder sold my girl to someone else so I had wait another six months for "Tiffen" and we headed home. I wanted a "pet" female but Tiffen was a "show dog". Contractually, she had to earn her Championship. I was NOT going into "the ring". Who would have guessed that after hiring a handler, I would be the one to finish her. Thirty eight years later, I still love the show ring.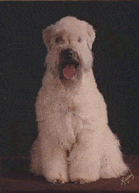 Nor was I interested in breeding but breeding her was a requirement. Her litter was born in 1984 (ten). Hooked again!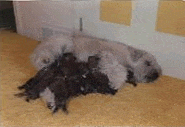 In 1983 "Dazzle" joined our growing family. In 1984 my breeder placed "Chantelle" with me. She had been in several homes and was quite a challenge! With my background as a school counselor, the breeder hoped I could work with her but she would not be able to compete in the show ring. Chantelle became my third Champion.
In 1987 both "Tiffen" and Dazzle" were in the top ten Terrier Producers.
In 1988 "Kyndallynn" (a Dazzle daughter) was the #1 wheaten bitch in the country and a Champion at 9 months old. Dazzle was still listed in the top ten of Terrier Producers with 8 Champion offspring.
In 1989 "Clancy" became the #3 wheaten dog. A Dazzle son, littermate of Kyndallynn and a Champion at 10 months old.
This is not about ego. It is about the joy of working in partnership with my wheaten. We (dogs and I), truly enjoy the sport. I therefore groom, train and show my own wheatens. No handlers required.
From my point of view, there is only one possible negative to breeding. Prospective owners can be a disappointment. I therefore have resorted to an interview form to hopefully discourage those who are unable to make the committment required. If it is your desire to increase your family by adding a Soft Coated Wheaten Terrier to a FOREVER home, please request an interview form. All others need not apply!