Serving
The Greater Midwest
Breeder | Trainer | Groomer Wheaten Health Resource
Champions Over 75 and Counting
Ch. Tiffen's Shaboom Shaboom
Forever remembered and always in our hearts...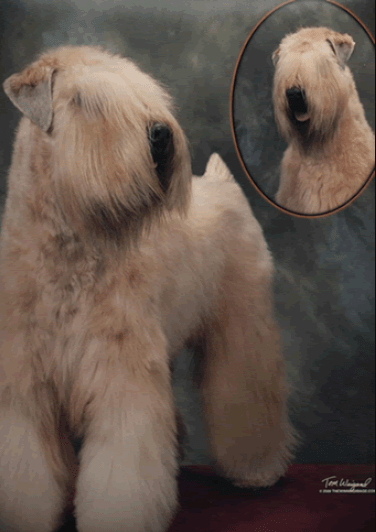 My commitment to the well being of all dogs motivated me to begin a business called "With Dignity" in 1992. I was at an animal hospital when a van pulled up. The driver opened the back and a number of deceased pets fell to the cement. I watched in horror as the driver tossed these beloved pets back into the truck by a leg, tail, etc. I have NEVER wanted any of my pets treated in that manner. I began my business shortly thereafter even though a Veterinarian friend of mine warned me that the after death care of animals was shocking. He was correct. Fortunately, as the years progress, there are more and more safeguards being added in Illinois. Unfortunately, not all cemeteries or crematories comply. Within the Chicagoland area I can only personally recommend two crematories and only three cemeteries.
I hold a Masters Degree from DePaul University in Guidance and Counseling. I specialize in Pet Loss. I have found over the years that my clients recover much more rapidly from the loss of their beloved pet knowing that that animal was safe in my care.
With Dignity Inc.
will pick up your deceased pet from your home or veterinary clinic. Your pet will be transported to the crematory or cemetery of your choice while traveling in a pet bed, respectfully covered with a blanket and any other items you wish to accompany them. Your pet will be tracked every step of the way and treated as though it were one of our own.
When that painful time arrives, we will be there for you. You may rest assured that your beloved pet will be treated "with dignity" every step of the way. It will be the last gift you can give your devoted family member.