Serving
The Greater Midwest
Breeder | Trainer | Groomer Wheaten Health Resource
Champions Over 75 and Counting
My oil painting of a wheaten puppy
Mahala Claire and Hi Five are littermates. We bred them in May 2022 four days apart to a lovely male from Oklahoma. Mahala's litter was born on July 17th (6 males and 2 females) and Hi Five delivered her litter on July 21, 2022 (6 males and 2 females as well). Because this website was down at the time, some assumed we were no longer breeding. Wrong! These puppies could not be sweeter or more loving.! Like typical wheatens they are SMART and truly characters. (For some reason they absolutely love the Liberty Mutual commercial and all stop whatever they are doing to watch.) I have 1 female and six males available and ready to go to new homes, and how I will miss them! If interested please call and I will be more than happy to send you an application.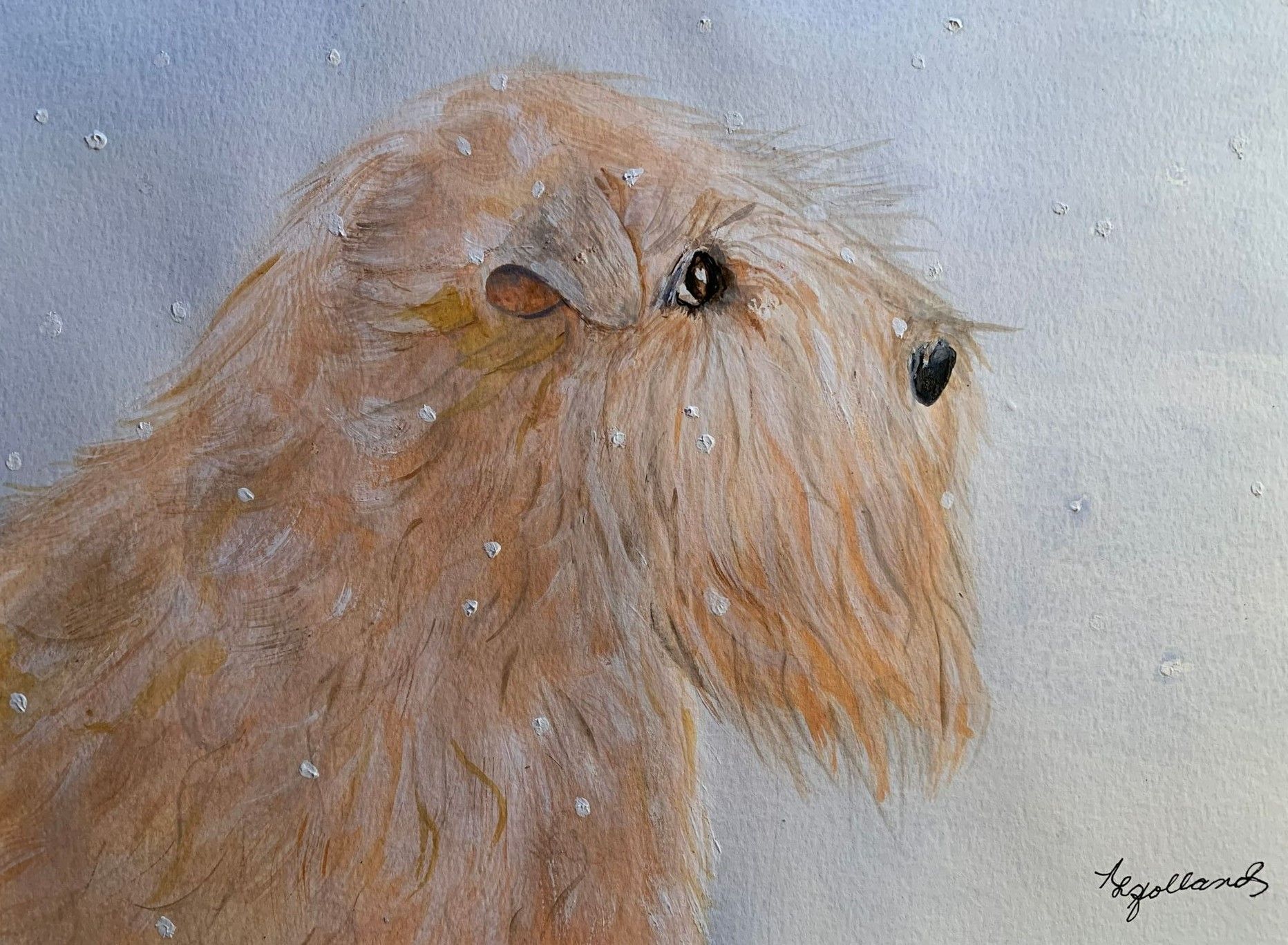 My watercolor of an adult wheaten in winter
Many families choose to wait for that special dog that is over a year old as they wish to bypass the difficult puppy stages. We just might have exactly what you are looking for to fit your lifestyle.
You will still need to complete an application form to qualify. Please phone or email to tiffenterriers@aol.com and one will be sent to you.
I have written a booklet which answers every question I have been asked about wheatens during my years as a breeder. This booklet is provided to all "Tiffen" families at no additional cost. I will be using this booklet at the time of our appointment so that you will have all the information needed to become a great wheaten owner and your dog a good citizen. You will not need a "trainer". It is important that you bond with your dog and this relationship is solidified duriing the training period. A misconception exists that all dogs are the same and that once you have trained one the same method will work for all. Not all Breeds, Terriers, Wheatens or littermates are the same. Celebrate learning about your new companion!!!